TaxBanter resources & downloads.
Browse our library of resources and downloads to stay up to date with your tax needs.
TaxBanter's 2019-20 Federal Budget Summary
TaxBanter's detailed summary of the most recent Federal Government Budget.
2019-20 Federal Budget Quick-reference Timeline
An at-a-glance timeline of the Federal Budget's proposed measures. Click on any item to view the TaxBanter article in full.
Tax Library
A searchable database of TaxBanter content. Eligible clients of our tax training have free access to this fantastic resource; designed to put quality TaxBanter content at your fingertips for easy reference when doing client work or for yourself.
Tax Data
TaxBanter's popular Tax Data resource – a valuable reference tool at your fingertips. Tax Data contains a vast array of relevant and useful tax information, such as thresholds, rates, limits, dates, allowances, rules, caps, benefits, State taxes, charges and penalties.

Why not leave it to the experts so you can focus on what you do best? Webb Martin Consulting is a well-respected and trusted provider of quality tax advisory services.
Visit the Webb Martin Consulting website.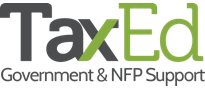 TaxEd provides taxation support and education services to a wide range of Government bodies and organisations within the not-for-profit (NFP) sector.
Visit the TaxEd website.
By completing this form you are agreeing to our privacy policy, and may receive useful tips, blogs and marketing material from TaxBanter from time to time.
By completing this form you are agreeing to our privacy policy, and may receive useful tips, blogs and marketing material from TaxBanter from time to time.
By completing this form you are agreeing to our privacy policy, and may receive useful tips, blogs and marketing material from TaxBanter from time to time.