TaxBanter resources & downloads.
Browse our library of resources and downloads to stay up to date with your tax needs.
2022-23 Federal Budget Summary
2022-23 Federal Budget quick reference timeline

Why not leave it to the experts so you can focus on what you do best? Webb Martin Consulting is a well-respected and trusted provider of quality tax advisory services.

Visit the Webb Martin Consulting website.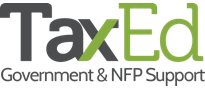 TaxEd provides taxation support and education services to a wide range of Government bodies and organisations within the not-for-profit (NFP) sector.

Visit the TaxEd website.