Tax Library is our exclusive client resource – log in below to access previous training and handy tips for on the job.
Access to the Tax Library is available to our in-house clients; plus any attendees of TaxBanter public sessions or webinars who register for a full-year series.
To discuss the Tax Library please contact the TaxBanter team on 03 9660 3500 or email enquiries@taxbanter.com.au.
Benefits of the Tax Library include:
My Special Topics
PDFs of topics from your training sessions are available in the 'My Special Topics' menu.
Full-year attendees of public face-to-face or online training will have their full calendar year of topics available.
In-house clients will have access to topics from both their current and previous years of training.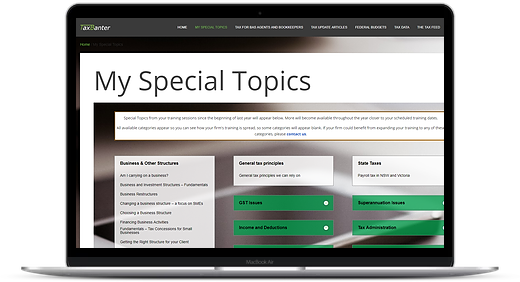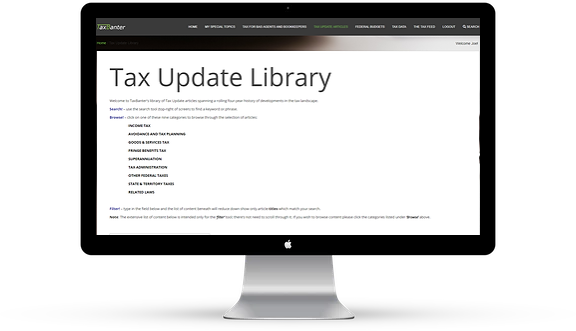 TaxBanter's Tax Update articles
Browse through categories; filter through titles, or search on all TaxBanter Tax Update articles to-date from the past four years.
Access to our valuable 'Tax Data' resource
A vast array of relevant and useful tax information, including: allowances, benefits, caps, charges and penalties, dates, limits, rates, rules, State taxes and thresholds.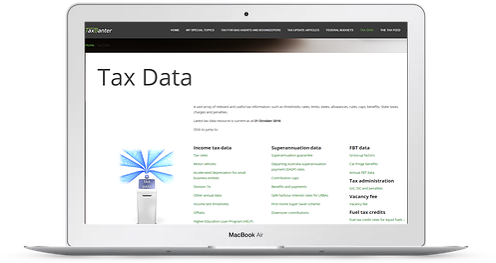 Plus a range of other features
'The Tax Feed'
Browse TaxBanter's social media feed and keep up with our latest updates from within your Tax Library portal.
Access from any device
Our Tax Library has been specifically designed to work seamlessly on any device – desktop, tablet and phone!
Upcoming training
At-a-glance information on upcoming public training, both online and face-to-face.
Federal Budget summary
Get access to our latest Federal Budget summary, along with historical summaries.