History of TaxBanter
Established in 2008 by its Directors Neil Jones and Michael Doran, TaxBanter has grown to become a leader in professional tax training and specialist training services.
Over the past few years, TaxBanter has acquired the Kaplan tax training division and the Cyntax tax training business, which has enabled us to increase our national footprint. We can provide in-house training to firms in major cities and regional centres nationally.
TaxBanter continues to evolve to offer you a selection of services and delivery methods to fulfill your professional training needs. Our tax training services offer you a choice of both an online or face-to-face delivery; ranging from interactive public sessions, to a tailored In-House training session at your premises where your staff are the focus. If you require training with a more specialised focus, our Online Superannuation Training provides quality training targeted purely on Superannuation; or attend our face-to-face Superannuation Masterclass Seminars to learn the latest super changes and strategies to implement for your clients.
TaxBanter is constantly developing new products and services to offer our clients and fulfill your professional learning.
Our core values and vision
We are the experts in tax training and this is our core focus. We pride ourselves on providing expert knowledge through high quality training services that are flexible, practical and relevant.
The strength of the TaxBanter business is a direct result of the quality of our personnel. All of our staff have extensive experience in delivering tax courses, as well as strong backgrounds in professional practice. Our combined pool of trainers offer exceptional levels of variety, specialisation and experience in all focus areas.

Why not leave it to the experts so you can focus on what you do best? Webb Martin Consulting is a well-respected and trusted provider of quality tax advisory services.
Visit the Webb Martin Consulting website.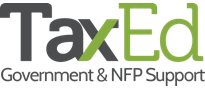 TaxEd provides taxation support and education services to a wide range of Government bodies and organisations within the not-for-profit (NFP) sector.

Visit the TaxEd website.
"Our trainer tailors our sessions to our needs and allows discussion on more in depth issues particular to our client base."
"We like the interaction with the trainers, their ability to answer questions from the floor and details provided in the training materials."
"Our trainer presents complex issues in a manner that enables discussion, understanding, and the ability to further investigate through the use of the comprehensive notes."
Brosie Martin Barnett, NSW